Let me introduce you to Turia Pitt.
I learned about Turia Pitt in the middle of a crazy shift at the café where I worked on a busy Sunday morning.
She strolled in wearing the most colourful set of activewear and an aura of confidence that only somebody who had just gone for a satisfying run can show off.
I recognised who she was from an email that I had received about a public speaking event that she was going to hold all over Australia. I had bits and pieces of her story, yet I was only aware of the tip of the miraculous iceberg that Turia Pitt really is.
We had a friendly chat about her run and how insanely busy the café was; but only when I was making her a juice I was frustrated at myself for not telling her that I knew who she was and how badly I wanted to attend the event where she was speaking.
I thought of appropriate ways to tell her that she was inspiring to me – a girl who was trying to train for a shabby 21KM marathon – but I didn't want to come across awkward, or disrespectful towards what she had gone through.
If I had survived 60% of my body being burned alive, would I want a random waitress to call me inspiring in the middle of my Sunday morning?
Probably not. It would even annoy me a bit to be defined by five terrible seconds of my life,  so I just opted to keep my mouth shut and I silently followed her on Instagram and read her blog when I got home.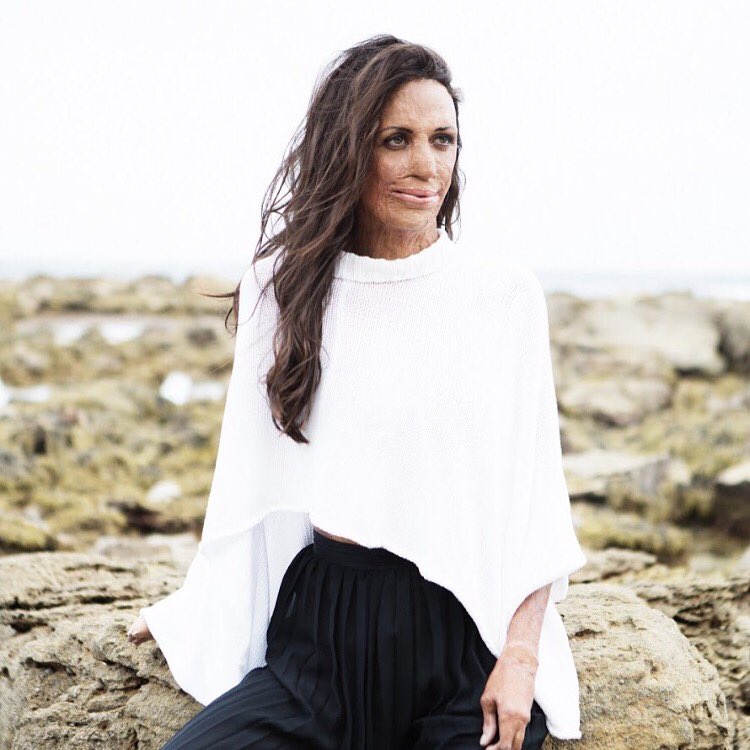 Yesterday, Turia completed her first ironman triathlon.
3.8KM swim, 180KM bike ride and 42.8KM later, Turia accomplished the goal that she had set for herself five years ago, when doctors kept telling her that she may have never been able to run again.
It's astonishing enough to see somebody completing a triathlon, not to mention an ironman. But if said person suffered burns from 65% of her body that happened during an ultra-marathon, and then finds the strength to take even further – we can only sit down and silently bow to such determination.
Because really, what strikes of Turia isn't the fact that she rose above a painful experience. It's her mental strength and wit that she seem to have held together over the years of taking herself back to the powerful athletic and smart weapon that she was before.
Coming from years of political debates and personality A battles against people smarter and more powerful than me, I know a leader when I see one. I can smell a challenger for miles.
When she first walked into the restaurant, I knew that people stared because of the burns, but it was also the effect of a magnetic force that bended air and shifted everybody's eyes to her. She glowed with confidence, like somebody who knows where the hell she is walking to. I knew that this girl had a powerful story that went beyond being a burn survivor.
When I saw the first pictures of her at the finish line surfacing over the internet, I squealed and maybe teared up a bit, because I have followed her story since that encounter on that busy Sunday morning, and it's almost like a friend I admire a lot has just accomplished something.
And as a proud supporter of a challenger, I want to share the incredible stuff that this girl is made out of.
---
SMART, BEAUTIFUL AND ATHLETIC.
Tahiti born, raised on the South Coast of New South Wales (Australia)  Turia blossomed into a stunning active girl.
Turia before the accident.
She earned a double degree (with honours) in Engineering and Science from the prestigious University of New South Wales, while juggling an active lifestyle and a modeling career that she pushed aside when she landed an incredible job at mining giant Rio Tinto in Western Australia.
Turia had and still has the trifecta: she is smart, stunning and she is a fitness freak.
You probably knew a girl like her in high school. I knew a few, and I couldn't even bring myself to fall into the adolescential hating game, because girls like that just set the bar higher. They show you that as a woman, you can grab the cake and eat it.
Turia is probably the final year girl that I would have looked up to on my first day of school.
Growing up, Turia was involved in state championships for cross country running and was always striving for the extra mile; at work, at uni and as it turned out – during her recovery.
"If you want me to do something—all you have to do is tell me that it can't be done!"
They told her that she wasn't going to be able to sustain the heavy study load that comes with a double degree – but she graduated with honours.
She went to work in a male-dominated field in rural Western Australia – and she achieved the NSW Premier's Australian Woman Of The Year award for her work, which is given to only three women annually.
They told her that she wouldn't be able to run again after surviving such a disastrous accident – but she not only ran, she has now crossed an Ironman off her bucket list.
OVERCOMING THE ACCIDENT
When she was 24 and living a perfect combination of a perfect relationships, a successful career and a satisfying lifestyle in Western Australia, Turia decided to enter the 100K marathon that would have almost cost her life.
Turia almost didn't make it to the race, whose entry fee was at a staggering $1,500 that was waived when the race organizers decided to not charge her due to low numbers of participants.
When she was 25KM into the race, Turia found herself in the heart of a bushfire, which almost risked her life and left her with 60% of her skin suffering from severe burns.
Over the last five years, Turia went under almost 800 operations to reconstruct her skin and worked to rehabilitate her body, teaching herself to go back to the basics of standing up and walking a set of stairs.
Thankfully, she had a positive and strong support system from her family and her now fiancé Michael, who had quit his full-time job to take full care of her recovery.
This is probably where the true Turia's spirit that we love shines through her. During her pain and difficult recovery, she maintained that same spirit of warrior that she held before the accident.
I guess that you never quit being an athlete; you never quit pursuing that resilience and determination to fight against all odds to get to the finish line.
Turia talks about her frustrations as an ex-athlete having to start from the bottom in her memoir, Everything To Live For.  She remembers how frustrating and sometimes infuriating to be applauded for making a small step, when all you want to do is being able to run a marathon.
But Turia overcame this pain by giving herself constant bursts of courage. Huge goals broken down into tiny steps to take with determination.
As she wrote on her blog about courage, Turia said that's exactly what kept her determined to go back to her fitness. She took inspiration from martial arts champion and cancer survivor Nadine Champion, who stresses the importance of giving yourself 10 seconds to be brave when you feel like you're out of strength. When you are about to give up.
When you look at her story, it's easy to fall in awe at such courage and determination; it almost makes us feel lazy and privileged about our couch-potato lifestyles.
But don't fall for it. Don't just be all inspired and all. Learn from her story, from her wisdom.
Turia has used every single day to get better. She made the most the support from her family and her relationship, accompanied with a great amount of determination to go back to the life she had before the accident.
She made a commitment to resume the life she had. And because she believed, she accomplished it.
And now she's spreading this courage around.
Turia has been touring all over Australia like the rockstar that she is; spreading awareness on her challenging experience, but mainly teaching us what determination and courage can achieve with the right dose of support and focus.
"I definitely don't do it all, but I certainly try"
THINGS THAT TURIA TRIED AND DID.
She went from doing one-minute on stationary bike to joining a cycling event where she rode from Sydney to Uluru (4,000K) to raise funds for charity.
She walked The Great Wall of China to raise $200K for Interplast, a charity she is ambassador for.
Her dream is to travel the world as a motivational speaker
She is participating to the Kokoda Trek this year, to raise funds for charities.
If you love Turia as much as I do, show your support and love by tweeting her or writing her on Instagram.
You can find her on: